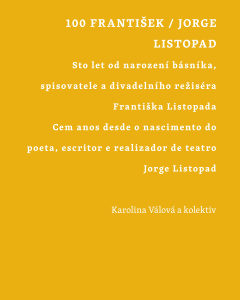 Karolina Válová et al.
The František Listopad's centenary has been celebrated with an artistic-academic project called "100 František / Jorge Listopad", also covering Czech and Portuguese culture. Since April 2021, the Portuguese Department of the Department of Romance Studies of the Faculty of Arts of Charles University in Prague (represented by Karolina Válová), the Department of Portuguese – Lindley Cintra Chair and the Camões Center of the Faculty of Letters of Marie Curie -Skłodowska University in Lublin, Poland (Ricardo Rato Rodrigues), and the Portuguese Cultural Center of Instituto Camões in Prague (Petra Šantorová) has prepared a series of literary events, workshops, public debates, the release of documentaries, and interviews with personalities from cultural life who had been in contact with the author. This collective monograph of the same name, 100 František / Jorge Listopad, is a result of all these activities with an effort to partially fill the gaps in the reception of the Czech literary criticism of František Listopad's work.
The monograph is accompanied by a CD with experimental music by several European composers who were inspiredby the author's lyrics: Angelo Esmanhotto & Ondrey Zintaer; Chapadla; Chrup; Instinct Primal; Klamm & Pelikán; Kryštof Pátra; MeGTuN; Nac/Hut Report; Willhelm Grasslich.